Special Olympics Surrey & Kerry Foods Ten Pin Bowling Tournament.
Special Olympics Surrey (SOS) Ten Pin Bowling team announced their first-ever friendly tournament with Surrey based Kerry Foods. Taking place on 27 November 2018 at Hollywood Bowl Tolworth, Surrey, team members from Kerry Foods paired up with athletes from SOS, some of whom have been selected by Special Olympics GB to represent the United Kingdom at the upcoming 2019 Special Olympics World Games in Abu Dhabi (14th – 21st March 2019): Natalie Francis, Rebecca Starling and Tamaar Alami.
Ten Pin Bowling is a firm favourite with our SOS athletes. Highly qualified and dedicated coaches have trained and encouraged our bowlers to become among the best in Europe. An all-year-round sport, it builds team spirit, self-esteem and friendships. From novice to champion, irrespective their age and sports abilities, it ensures physical exercise as well as participation and integration.
Quote from Special Olympics Surrey
"As one of the most popular events in the Special Olympics, bowling brings the entire community together and gives people with intellectual disabilities the chance to compete in a sport," said Peter Webster, Special Olympics Surrey Chair. "This friendly tournament is a great opportunity to build on our bourgeoning relationship with Kerry Foods and we and our athletes are greatly looking forward to a wonderful evening for all involved."
Quote from Samantha Wothers, Head Of Employee Engagement Kerry Foods
"I'm really proud of our partnership with Special Olympics and in particular the close relationship we have built with Special Olympics Surrey. It is an organisation that has successfully opened the hearts and minds of the world to people with intellectual disabilities and created inclusive communities all over the world. We are really excited to be playing alongside the athletes in this week's friendly tournament and supporting the team on their road to the Special Olympics World Summer Games."
SOS Athlete focus - Hannah Kemp
Read Hannah's incredible story, from watching a Special Olympics documentary on the TV in 2012, to six years later being chosen to represent Great Britain at the Special Olympics World Games in Abu Dhabi in 2019. Kindly written by her dad Jon Kemp.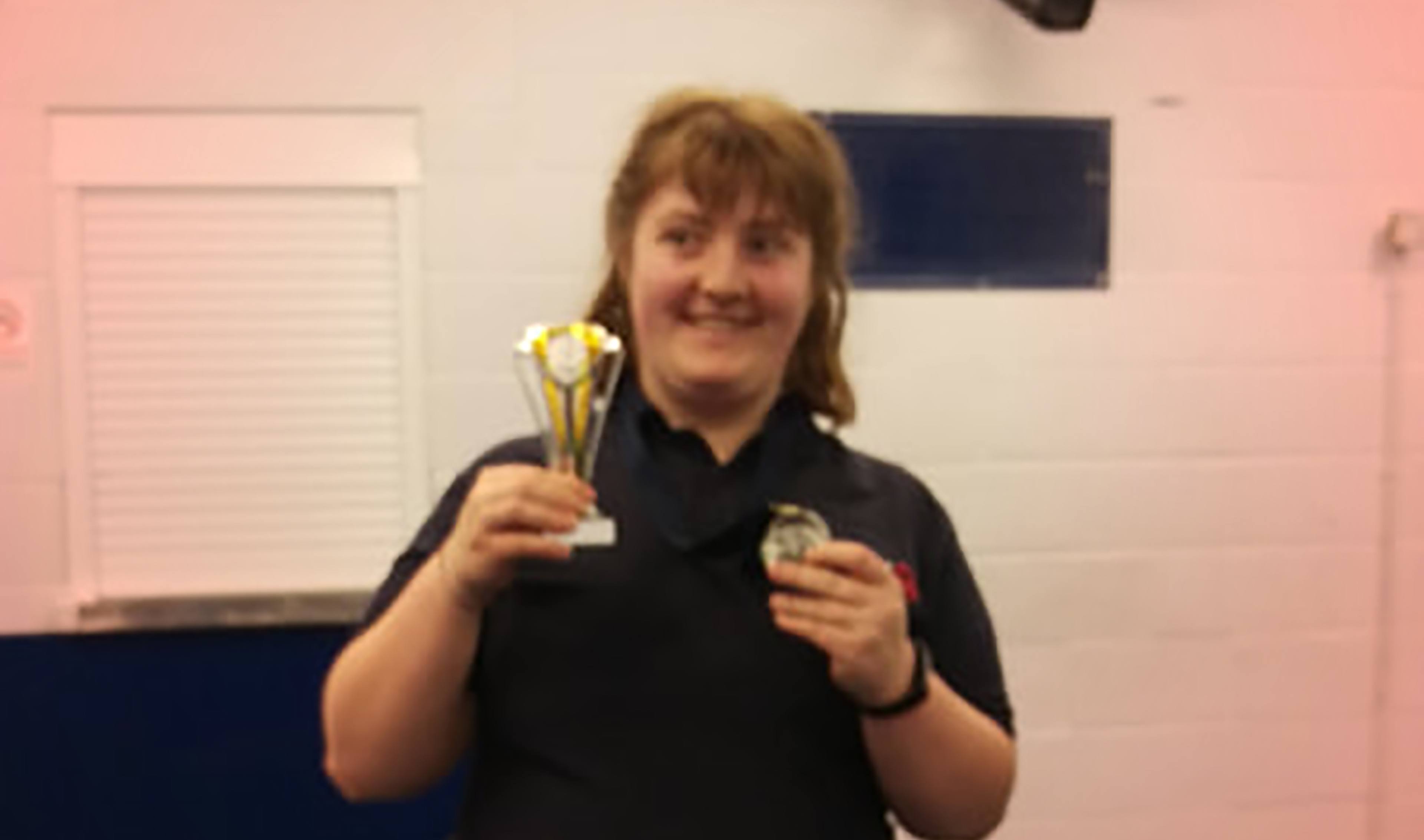 This year they went to Portsmouth again and she was part of a team that came 2nd. She has made some really good friends in the Special Olympics and met Maggie who also runs the Inspire Sports Club and she now goes there regularly.
Since her early teens, she has suffered from low self-esteem connected with ongoing issues about her weight and appearance but her success at the Special Olympics has given her mood a big boost and a determination to succeed. This determination has shown itself in her willingness to take part in charity fundraising events, the last one was in 2016 when we cycled on a tandem from London to Paris over 4 days raising money for the National Autistic Society.
Hope this gives a little insight of just how important to Hannah's mental health Special Olympics is. The news that she had been selected for Team GB helped to snap her out of a recent spell of depression. This has given me my happy, smiley Hannah back and for that, I cannot thank Special Olympics enough.
Hannah has a just giving page which you can visit by clicking here
We first learned about Special Olympics when we watched a documentary which was shown just before the London 2012 Olympics. She was really inspired by the Olympics and was delighted when she found out about Special Olympics Surrey.
We started going to the athletics sessions in September 2012 and she loved it. Her love of sport had been encouraged by an inspirational teacher at her school and she was keen to take it to the next level.
Her first competition was an indoor competition at Portsmouth in February 2013 which is a team event. The squad finished 10th which for a small team was a good result. Her first outdoor competition was in June at Allianz stadium in North London which was were Hannah won her first gold medal in the 50m sprint.
She joined Special Olympics Boccia team in 2014 and since then has had some good results including twice going to the National finals in 2016 & 17. They missed out by 1 point this year.
Last year she went to the National Games in Sheffield and won a gold medal for the softball with a huge throw of 19m. She also got a bronze medal for the 50m sprint & a 4th place ribbon for javelin.
Special Olympics Boccia Team
Boccia England's individual and league competitions have got off to a good start for our team players.
Our second leg of the Boccia England League took place on Saturday 14th April. The team all went into the event feeling quite happy, as they came top in their first leg. The day consisted of 6 matches and we got off to a great start against Farnham, finishing 8-1. We went on to win all our matches and came top in our pool, with our overall score of 11 out of 12 matches won, with a point score of 57 for and 16 against. A terrific result and some outstanding play. This result put us into the playoff against the winner of the other pool, YMCA A team.
A very well played match and very even, but just managed to lose by one point with the score 4-3 to the YMCA.
The winners now go onto Sheffield for the finals. Last year two teams were allowed to go through, unfortunately, Boccia England is only allowing one team.
Former SOS athlete Mikael returns to collect his sports award
Our much loved former athlete Mikael Undrom made a special visit from his home in Sweden, to collect his SOS sports award. Mikael, his mum Elsie and family returned to their native Sweden earlier this year. All of us at SOS have missed them very much, so it was fantastic that they travelled over to the UK to visit the SOS family. Our Chairman, Peter Webster was on hand to present Mikael with his Sports Achiever of the Year award.
Mikey's in the local news 2017
Special Olympics Surrey ten pin bowler, Mikey Lines made the Woking News and Mail recently. The article can be read below:
Everyone at LinkAble would like to congratulate one our service users, Mikey Lines, on his incredible achievement at the Special Olympics.
Mikey, who has been with LinkAble since the age of 6, competed in the Special Olympics held in Sheffield this year and came away with three golds in Ten Pin Bowling for Singles, Doubles and Team disciplines. A truly outstanding performance.
Mikey has got the highest average scores in the last three Nationals of the Special Olympics which are every four years with over 100 bowlers and 12 leagues in singles!
What started off as a hobby for Mikey has become a very successful sporting journey and we are all very proud of him here at LinkAble.
Well done Mikey.
SOS member Daniel Wolff wins Disability Sports Award 2017
The 7th annual Epsom and Ewell Sports Awards took place on Tuesday 3 October, at Epsom Downs Racecourse.
The evening celebrated the local athletes, coaches, volunteers, teams and clubs that have enjoyed success throughout the year.
SOS member Daniel Wolff (pictured) won the Epsom & Ewell Football Club Disability Sports Award.
All local winners will go to the assessment panel for the Surrey Sports Awards. Shortlisted nominees for the County Awards will be announced in November.
Good Luck Daniel!
SOS National athletes enjoy a Mayor's reception 2017
On Thursday 19 October 2017, the Deputy Mayor of Kingston, Councillor Mike Head, and the Mayoress Mrs Sandra Head hosted a reception in the Mayor's Parlour. This was an opportunity for the Royal Borough of Kingston upon Thames to acknowledge and congratulate the Special Olympic Surrey athletes who recently attended the Special Olympics Great Britain National Games in Sheffield. The Deputy Mayor and Mayoress were also joined by the Mayor's Consort Mr James Pickering, who was representing the Mayor of Kingston, Councillor Julie Pickering.
The athletes won many medals across a number of sports, which included Athletics, Cycling, Golf and Ten Pin Bowling. A special mention for our ten pin bowling squad who won a Team Gold, making them the best in Great Britain!! WOW!!

The athletes had a memorable time, and really enjoyed themselves. A special thank you to Sonette for making such a wonderful cake too. Photos from the Mayor's Parlour can be found on our Facebook page.
Great Day For Surrey Golfers 2017
Organised by Graeme Mazur, this was an exciting opportunity to get out onto the golf course and enjoy a fun packed day!
On a glorious hot and sunny day, 10 golfers from Pachesham Disability Group, Discover, The Silver Lining, and Special Olympics Surrey set out for the Super Six Tournament.
The competition over, it was time to head for the bar for some welcome drinks, and the great lunch provided by the Club, and anticipation was high for the coming Awards Ceremony. The two Special Olympics golfers – Angus Cameron and Greg Friend, swept to victory with 1st Place!
This Special Olympics Surrey Golf Group are coached by Karl Spurrier, Head Pro at Pachesham, and Graeme Mazur on a Thursday evening at the course in Leatherhead.
It was a special moment for the boys, and we would like to thank Karl and Graeme and everyone at Pachesham Golf Centre for their hard work in making the day such a great experience for everyone, and especially for their dedication in coaching The Special Olympics Surrey golfers.
Boccia England National Finals in Sheffield 2017
Three of our athletes for the second year running qualified for the National Boccia Finals in Sheffield on the 1st July.
Hannah Kemp (captain), James Marchant and Emma Chambers took part in the event having come top in the Surrey League to qualify for this event.
They all played really well and won two out of their three matches in their group and just missed out on points difference to qualify for the quarter finals.
They finished a credible 10th overall, three positions up on last year. A fantastic result.
The athletes were supported by their coach Sandie Barker, who is delighted with the result and very proud of their achievements. Parents and carers also came to support and made the day very special.
Special Olympics South East Region Athletics Competition 2017
On Sunday 30th April, a team of 10 athletes from Surrey travelled to Eastbourne to compete in the above athletics competition. The weather was cool and it began to rain which always impacts on performances, but our athletes produced some very good achievements against some of the best athletes in South East Region.
Congratulations to Hannah Kemp who performed a PB in soft ball throw of 19.64m. Overall, we achieved 9 golds, 4 silvers, 2 bronze, 24th places and 16th place.
We commend Joe Dowek who is a new SOS athletics member who only started training last October indoors. This was his first competition and achieved 2 gold medals in 100m 11.3 secs and standing long jump of 0.87m he also joined the relay
team as we were one short. Well done Joe this is an excellent start to athletics.
Thank you to Bob Shaw who drove the minibus and to all the parents who came and supported our team. We look forward to the next competition in Bournemouth on 11th June. Maggie North, Head coach SOS, May 2017
Athlete Ambassador Training 2017
After a lot of planning with our partners at Kingston Council we finally started an Athlete Ambassador Training programme. Five of our athletes were selected to take part in this 6 week course.
The course includes teaching the athletes communication skills, presentation skills, keeping healthy and active and Advocacy –telling their story.
The aim is for them to become an SOS Ambassador for Sport, Keep healthy, Inspire others to get involved, improve their communication skills and grow in confidence. This is a great opportunity for their personal development and hopefully to get
more like minded athletes involved in our sports coaching.
Our athletes are Alan Booth, Daniel Wolff, Hannah Kemp, Paul Florence, Nicholas Silver.
Special Olympic Surrey compete in Southern Sportshall Athletics competition at Portsmouth 2017
10 Surrey athletes travelled to Portsmouth on Saturday 4th February to compete in the Southern Sportshall athletics competition. For Stefaan this was a new experience as he had never competed before, but he equipped himself well and enjoyed his events. The rest of the team had been to Portsmouth on many occasions and always enjoyed competing there. Its always good to get the athletes feedback and to identify things they did well and things they could improve. Here are a few comments:-
Owen Hughes: "I enjoyed the events but need to eat less. Id finished all my food by 11am so next time need to spread it out."
Mark Gorman: "I enjoyed the day it was really good I could have done better I need to improve my running and get stronger."
Ronnie Lee: "I performed well and enjoyed it all. I got better at the jumping.
Luke Ayios: It was alright, I was a bit slow at my first event. I had to run 4 lengths and need to improve my technique in turning. I enjoyed it I've been before."
Thank you to Bob Shaw, Claire Baker and Shannon Lammiman who took them in the mini bus and supported them throughout the day. Congratulations on their 3rd place in the competition. They all received a medal and the SOSurrey a certificate and trophy.
The team consisted of:
Mark Gorman, Ronnie Lee, Alice Scott, Hannah Kemp, Stefaan Lister, Matthew Houghton, Owen Hughes, Nichols Silver, Dave Bysooa, Luke Ayios Thank you to Angela Ayios and Vidula Bysooa for the photos and videos.
More Photos & Videos -
https://goo.gl/photos/Qz67KqQ7X6h1HpmZ9 Maggie North SOS athletics coach 10/2/2017https://goo.gl/photos/Qz67KqQ7X6h1HpmZ9
Boccia Athletes with more success 2017
Two of our athletes took part in the Boccia England Heathcoat Cup in Guildford. A Classification event for single players which we entered for the first time.
The competition saw over 70 players in different disability classifications compete at Surrey Sports Park.
Hannah Kemp and James Marchant played some really good games with some tough opposition.
Hannah just missed out on one point to qualify for the semi finals and finished a credible 5th place with James going onto the semis and finishing 2nd overall.
A fantastic result which he now qualifies for the Boccia England National Finals in Hertfordshire.
Awards for Surrey Skiers 2017
The Annual Awards ceremony at ASD (Aldershot Snowsports for the Disabled) this last weekend.
4 skiers from Special Olympics received awards - Dom Hsu & Kathryn Martin - most improved skiers, Alex & Karen were given special awards in recognition of their efforts in being selected to represent GB at the World Winter Games next year.
Unfortunately neither Dom nor Kathryn were there to receive their awards so there are no photo's of them. Congratulations to all.
Great Night for Surrey Ten Pin Bowlers 2017
The Regional Competition took place at Tolworth Bowl on Tuesday 31st May. These players were striving for places at the National Games in July 2017 in Sheffield. The competition was divisionalised so that even junior bowlers could have the opportunity of being chosen for the National Games.
The athletes oath was taken at the beginning of the Tournament by Lyndsey Jeffery and the coaches oath was taken by Alan Howe. Sue Frett presented the athletes with their ribbons and medals.
The Head of Delegation for the Games in Sheffield, Sonette Oosthuizen, made
cupcakes for all, which is one of the pleasures that she does for the bowlers on
many occasions. It was good to see the support of parents there. Jackie Wills, Ten-Pin Bowling Secretary, and Sally Lines, Competitions Officer, put the evening together. This proved to be an outstanding success as many bowlers reached their highest scores recorded to them this season.
Congratulations to Connor Wills, Robert Keay, Mikael Undrom and Michelle Leatherby who won gold in their respective divisions.
More Success For Surrey Skiers 2017
Hemel Hempstead – Indoor training 15 & 16 October 2016
Our skiers have returned from a wonderful weekend of training at the indoor slope at Hemel Hempstead. They were given the opportunity to train on the artificial snow for 5 hours each day, giving them a wonderful platform and opportunity to improve their techniques & skills. Well done to all those that took part and a special set of thanks to our coaches, Pete & Brian who helped at the sessions. A huge thank you must also go to our friends from Special Olympics West Midlands who organised this event and allowed our skiers to participate. To Alan, Candy, Keith and all the team of coaches and carers thank you very much for all your efforts, help and arrangements and hosting this event.
West Midlands Race Day - 8 October 2016
Wow, how the year has flown by. Thee last event in the 2016 Alpine Ski Race calendar was held at the Ackers Slope in Birmingham. This Regional event is organised annually by the Special Olympics West Midlands club. A team of four athletes from our club entered and performed brilliantly. Elanor Sinden won Gold in both the Slalom and Giant Slalom events, Alex Scarborough won Bronze in the Slalom and Silver on the Giant Slalom, Mikey Lines got 4th place in both Slalom and Giant Slalom and Karen Oosthuizem won Bronze in the Slalom and Silver in the Giant Slalom events. Well done to them all!
Archive News 2016
Success In Manchester For Surrey Cyclists 2016
The group had an excellent weekend and are already looking forward to the next competition. This was SoMTB's first track competition. The friendship and sporting spirit of the weekend was 2nd to none and we were made to feel very welcome. To see all the competitors cheering everyone on was brilliant and made us all feel very proud of the young people at the Championships.
SoMTB competed in all of the races and had competitors in most divisions within the competition. They held their own throughout and brought home several medals including gold but in our eyes they were all winners! An amazing weekend, SoMTB can not commend it highly enough.
If all competitions are as enjoyable and as inclusive then Special Olympics have got it right!
Surrey Athletes Shine At Windsor 2016
Southern Region Athletics competition 2016
12 SOS athletes competed in The Southern Region Athletics competition 3rdJuly 2016 at Windsor.
The rain had stopped and the sun came out for a great day of competition. Congratulations go to Daniel Wolff who performed in 400m and 800m and produced a PB (personal best) in both. Well done to Alice Scott who had decided to try another event and threw the javelin and also achieved a PB. It was good to have Lauren McColl back in the squad and hoping she will be able to attend training next season in preparation for NSG in Sheffield. Well done also to Hannah Dear who hadn't been feeling that well but turned up and competed fantastically.
Everyone enjoyed their individual track and field events and meeting up with athletes from other regions. The grand finale are the relays and both our teams did extremely well.
Many thanks to Elsie Undrom, Paul Wolff and John Dear who helped our team throughout the day. Looking forward to the next competition after the summer holidays.
Maggie North July 2016
Special Day For Surrey Skiers 2016
Open Ski Championships Race Meeting – 22 May 2016
We held our annual Open Ski Championship race meeting on Sunday 22 May at our home slope, Alpine Snowsports, Aldershot. This event is held every year and is hosted in conjunction with Aldershot Snowsports for the Disabled. This event counts as a Regional event for our Special Olympics athletes. Athletes wishing to take part in National competitions, need to have participated in a regional event to qualify to enter the national event.
It was a great turnout. 52 athletes from 7 clubs across 6 different regions took part in the event with more than 100 people attending the event overall. Teams from all
over England entered with some traveling from afar as Rossendale. It was very pleasing to see an entry of 6 athletes in the Novice category, as it is important to see new athletes joining the sport. 5 of these athletes were from our Surrey group. Each athlete participated in the Slalom and Giant Slalom events. Pete, Brian and Adrian set some great courses for the athlete to ski. The slalom course appears to have been challenging, as it saw a record number of participation awards for our event.
It was a great day's skiing. The forecast inclement weather did not arrive making it a very pleasant day for everyone overall. 18 athletes from Surrey entered the event, taking home a total of 22 Medals – 10 Gold, 5 Silver and 7 Bronze. Well done team!
Our famous barbeque was a huge success. Thank you to everyone who contributed the salad and cake tables, they were fabulous. Thank you to our friend Herman who manned the barbeques on his own for most of the time. Our raffle table saw some great prizes on offer and was a great success.
Events like this do not happen without a lot of input from a lot of people. I would like to thank each and every volunteer and everyone who helped on the day. Thanks also go to the management and staff at Alpine Snowsports for their help on the day. It was great to have Eddy present the medals at our awards ceremony. It was a great team effort and it is reflected in the great positive feedback we have received about our event. Thank you all.
Photos from the day can be found on our Flickr Page -
Archive News 2015
Daniel Wolff Wins Gold At World Summer Games 2015
Daniel Wolff's road to success
Daniel Wolff's Special Olympics GB success in LA is a great example of the impact our coaches and volunteers have all around the country week in, week out. They are the incredible team, behind the team. They are priceless.
This picture attached is Daniel Wolff (in the white vest in lane two) from Worcester Park in Surrey, England. He was one of over 100 Special Olympics GB athletes chosen to represent the country at the 2015 World Games.
In the picture Daniel is on his way, in the final straight, to picking up a Gold medal in 400 metres at the World Games in Los Angeles in late July 2015. In a remarkable addition to this story, Daniel's great grandfather, Freddie, won a Gold medal at the 1936 Olympic Games in Berlin in the 4x400 relay.
However, Daniel's achievement simply did not happen overnight. It was a result of the long term dedication, loyalty, passion and excellence of Special Olympics GB's network of coaches and volunteers across England, Scotland and Wales.
It is a story which demonstrates the individual, highly professional and strategic approach that Special Olympics GB's coaches introduce for each individual athlete with a learning disability and their specific requirements.
Daniel's Special Olympics coach, Maggie North, has helped Daniel on that journey.
Maggie told me: "I have been working with Daniel for the last two years during which I have seen many changes. What was obvious from an early stage was that Daniel had exceptional running ability. His speed bounce score is 62+ for 30 secs demonstrated his incredible strength, rhythm and co-ordination."
"When he was selected to be part of Special Olympics GB's team to compete in Los Angeles at the World Games he needed to increase his training in order to capitalise on his ability which would give him the greatest chance of winning a medal. Daniel trained with SOS (Special Olympics Surrey) every fortnight so he was introduced to Dominic McGinty who is a fitness trainer at The Malden Centre in New Malden. Dominic took Daniel through some punishing gym sessions to improve his core strength. Daniel also joined an elite squad of athletes at Epsom and Ewell athletics club under the watchful eye of Dave Mitchel who understood Daniel's dream of emulating his grandfather. His father Paul would also accompany him on the 5k park runs on Saturday mornings to improve his stamina."
"A combination of these three changes - and a new winter indoor programme of athletic physical conditioning including strength, balance and coordination - helped Daniel improve his fitness. During 2014 and 2015, Daniel entered many competitions with SOS which improved his competitive performance. He has always been very good at focusing on his running and rarely gets distracted during competition. He got to a stage where whenever he competed he produced a personal best. It was wonderful to observe."
"Over and above the success, there have also been challenges along the way. Daniel had a number of anxieties about going to LA. He started doubting himself and his anxieties sometimes got the better of him and he would tell me that he was going to give up athletics.
"During this time, Daniel was moving out of the family home into independent living. This major change in his life obviously caused more anxieties but with the support of his family - and his commitment to training - he was able to overcome these problems and focus on his dream."
"Through Paul, I was being kept updated every day with pictures and progress reports from the World Games in Los Angeles. When I heard that Daniel had won gold in 400m I was overwhelmed and the events of the last year came flooding back to me. It was an incredible moment of joy and fulfilment for Daniel and all the work he had done. I felt so proud of Daniel's achievements as I knew what he had been through."
He is a wonderful ambassador for Special Olympics GB and Surrey. A fine example of someone who doubted himself but with support, encouragement and hard work, overcame his anxieties and achieved his dream.
Daniel said: "Los Angeles was amazing! I will never forget it but my coaches were brilliant. Maggie discovered me, said I had great talent and put me on a plan to achieve. She made me believe and introduced me to Dave at Epsom and Ewell. Dave has actually made me train even more and what he does for me is incredible. He has excellent and very different training techniques. He is very friendly."
"I would not be where I am without Special Olympics and my coaches"